Posts for category: Uncategorized
By Southshore Dental
February 21, 2018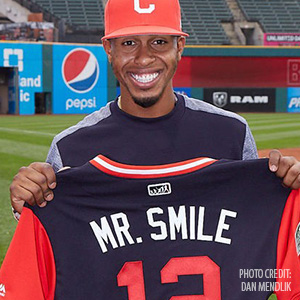 At the first-ever Players Weekend in August 2017, Major League Baseball players wore jerseys with their nicknames on the back. One player — Cleveland Indians shortstop, Francisco Lindor — picked the perfect moniker to express his cheerful, fun-loving nature: "Mr. Smile." And Lindor gave fans plenty to smile about when he belted a 2-run homer into the stands while wearing his new jersey!
Lindor has explained that he believes smiling is an important part of connecting with fans and teammates alike: "I've never been a fan of the guy that makes a great play and then acts like he's done it 10,000 times — smile, man! We've got to enjoy the game."
We think Lindor is right: Smiling is a great way to generate good will. And it feels great too… as long as you have a smile that's healthy, and that looks as good as you want it to. But what if you don't? Here are some things we can do at the dental office to help you enjoy smiling again:
Routine Professional Cleanings & Exams. This is a great place to start on the road toward a healthy, beautiful smile. Even if you are conscientious about brushing and flossing at home, you won't be able to remove all of the disease-causing dental plaque that can hide beneath the gum line, especially if it has hardened into tartar, but we can do it easily in the office. Then, after a thorough dental exam, we can identify any problems that may be affecting your ability to smile freely, such as tooth decay, gum disease, or cosmetic dental issues.
Cosmetic Dental Treatments. If your oral health is good but your smile is not as bright as you'd like it to be, we can discuss a number of cosmetic dental treatments that can help. These range from conservative procedures such as professional teeth whitening and bonding to more dramatic procedures like porcelain veneers or crowns.
Tooth Replacement. Many people hide their smiles because they are embarrassed by a gap from a missing tooth. That's a shame, because there are several excellent tooth-replacement options in a variety of price ranges. These include partial and full dentures, bridgework, and dental implants. So don't let a missing tooth stop you from being Mr. (or Ms.) Smile!
If you'd like more information about oral health or cosmetic dentistry, please contact us or schedule an appointment for a consultation. You can also learn more by reading the Dear Doctor magazine articles "Beautiful Smiles by Design" and "The Impact of a Smile Makeover."
By Southshore Dental
May 18, 2016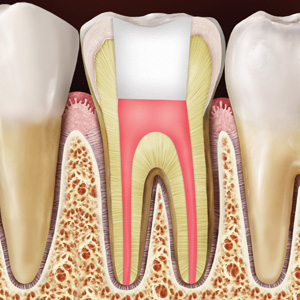 One of the most effective techniques for saving decayed or injured teeth is the root canal treatment. Yet when many people hear they need it, they become nervous at the prospect.
Much of this stems from a common misunderstanding that undergoing a root canal is painful. It's not — today's anesthetics are quite effective in numbing pain during a procedure, and mild pain relievers like ibuprofen are usually sufficient to manage any discomfort afterwards.
In fact, a root canal treatment relieves pain caused by decay within a tooth. As decay progresses, it can enter the interior known as the pulp, which contains bundles of nerves and blood vessels. It attacks these nerves causing pain and infection. If the infection progresses through passageways known as root canals that are in the roots of the tooth, the pain can intensify. More important, the tooth is in danger of loss as the root and connective tissues that hold the tooth in place are injured from the spreading infection.
During a root canal treatment, we access the pulp by drilling a small access hole, usually in the biting surface or in the rear of a front tooth. Once we enter the pulp chamber we remove all the contaminated tissue. Once thoroughly cleansed, we fill the empty chamber and canals with a special filling (usually gutta percha) to prevent future infection. The access hole is then sealed and at a subsequent visit we strongly recommend placing a permanent crown to provide further protection from damage to the tooth.
Root canal treatments are quite common. All general dentists have been trained in endodontic treatment and can perform most types of procedures. More difficult cases (like a complex root canal network that may be hard to access) may require the services of an endodontist, a specialist in root canals. Endodontists use advanced techniques and specialized microscopic equipment to treat complicated situations.
It's actually good news if we recommend you undergo a root canal treatment — it means your tooth has a good chance of survival once it's disinfected and the decay is removed. But don't delay: the sooner we can treat your tooth, the better your chances of a healthy outcome.
If you would like more information on root canal treatment, please contact us or schedule an appointment for a consultation. You can also learn more about this topic by reading the Dear Doctor magazine article "Common Concerns about Root Canal Treatment."
By Southshore Dental
July 10, 2012
Welcome to the Blog of SouthShore Dental!
Whether you are an existing patient or searching for a dentist in the Riverview, MI area, we're excited you are here. With the dental industry advancing, we recognize the importance of keeping our patients and visitors up to date with all of the new and exciting things taking place in our practice.

As we move forward with our blog, we hope to promote dental awareness as a vital part of your healthy lifestyle. Here you will find a variety of articles and topics including dental news, advancements in dental technology and treatment, practical dental health advice and updates from Dr. Mehul Patel and his staff.

We hope you find our blog to be helpful, engaging and informational to ensure your best dental health.

As always, feel free to contact us with any dental questions or concerns.

--The SouthShore Dental Team