Posts for tag: dentures
By Southshore Dental
November 04, 2015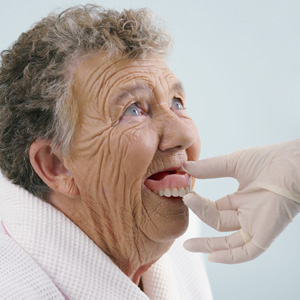 It's a common problem for denture wearers: after years of a comfortable fit, your dentures now seem to be uncomfortably loose. The reason, though, may have more to do with bone loss than the dentures.
Bone is a living tissue with a life cycle — it forms, it ages, and it eventually dies and dissolves (resorbs). It's replaced with new bone and the cycle repeats. Additionally, the forces generated when we bite or chew are transmitted from the teeth to the jaw, which helps stimulate new bone growth. When the natural teeth are missing, however, the bone no longer receives this stimulus. Resorbed bone isn't replaced at a healthy rate, which leads over time to bone loss.
Denture construction can also contribute to bone loss. The denture palate rests for support on the bony ridges that once held the teeth. Over time the compressive forces of the dentures apply damages and reduces the volume of gum tissue and eventually does the same to the bone. Combining all these factors, the reduced gum and bone volume will eventually alter the denture fit.
There are a few alternatives for correcting loose dentures. One is to reline them with new plastic, as either a temporary fix performed during an office visit or a more permanent relining that requires sending your dentures to a dental lab. Depending on the rate of bone loss, a patient could go through several denture relinings to accommodate ongoing changes in the jaw. At some point, though, it may be necessary to create a new set of dentures.
A third alternative that's becoming increasingly useful is to incorporate dental implants into the denture design. Implants can of course be used to replace individual teeth, but a few strategically placed implants (usually of smaller dimension) can serve as a support platform for a removable denture. This relieves some of the compression force of a traditionally worn denture and can slow bone loss.
If you're having problems with your denture fit, call us for an appointment. We'll help you decide on the best alternative to improving the fit and making your dentures more comfortable and secure.
If you would like more information on refitting loose dentures, please contact us today to schedule an appointment for a consultation. You can also learn more about this topic by reading the Dear Doctor magazine article "Loose Dentures."
By Southshore Dental
November 27, 2012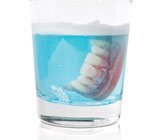 Cleaning dentures is an important part of wearing them. However, did you know that recent research has revealed a link between denture hygiene and overall health? The evidence shows that oral bacteria have been implicated in chronic obstructive pulmonary (lung) disease, bacterial endocarditis ("endo" – inside; "card" – heart), generalized infections of the respiratory tract and other systemic diseases. While it is never our intent to frighten you, we feel it is important that we share some important tips on maintaining and caring for your dentures so that your oral health does not negatively impact your general health.
Our first tip focuses on fit, as denture slippage is an experience that anyone who wears dentures dreads. So if your dentures seem to slip or you have started increasing the amount of adhesive you are using to achieve the same level of denture retention that you had when first fitted, you need to make an appointment with us soon. Otherwise, an ill-fitting denture can cause discomfort, embarrassment and contribute to other oral health issues.
Next, we must focus on cleaning your dentures. It is critical that you clean your dentures daily. However, you should never use harmful or abrasive cleansers. Nor should you ever place your dentures into boiling water! The best method for cleaning is to soak them daily in a non-abrasive denture cleaner. And when you remove them, gently brush them with a soft-bristled toothbrush.
Our last tip concerns how long you wear your dentures each day. Even if your dentures are extremely comfortable — for example, you forget they are in — you should not wear them 24 hours a day. Why? Because you will develop a chronic yeast infection called, "denture stomatitis" due to stagnation that develops under dentures when the lubricating and antibacterial effects of saliva are impeded. Unfortunately, the constant pressure on the gum tissues caused by wearing dentures can accelerate jawbone loss over time. Give your mouth and tissues a rest by sleeping without your dentures in your mouth.
To learn more tips, continue reading the Dear Doctor magazine article "Top Ten Tips For Denture Care & Maintenance." Or you can contact us today to schedule an appointment to discuss your questions.