Posts for tag: dental hygiene
By Southshore Dental
October 18, 2013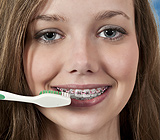 Taking care of your teeth is a lifetime commitment, if you want your teeth to last a lifetime. But it can be especially challenging if you're wearing traditional metal braces. With a little extra attention, though, you can reduce the risk of dental disease during orthodontic treatment.
The goal of oral hygiene is to remove biofilm, a layer of leftover food particles called plaque that is a haven for disease-causing bacteria. Orthodontic braces make access more difficult for performing oral hygiene. A little extra effort and attention, though, can make a big difference.
First, be sure you're eating a healthy diet and avoiding unhealthy snacks (especially those high in carbohydrates) between meals; this will discourage the growth of bacteria in the mouth. You should also limit your intake of sodas, sports or energy drinks since their high acidity contributes to tooth enamel erosion.
Although more difficult for someone wearing braces, brushing is still essential to good hygiene. Begin by holding a soft, multi-tufted bristle brush at a 45-degree angle, and then brush the surface area between the gum and the braces all the way around. Return to your starting point and brush the area from the braces to the edge of the top of the teeth in the same direction. Be sure you do this for both the upper and lower jaw and on both the cheek and tongue side.
Flossing is also more difficult, but not impossible. Instead of conventional floss thread, you can use special floss threaders, small interdential brushes, or an irrigation device that sprays pressurized water to remove food particles between teeth.
Above all, it's important to keep up regular office visits with us. In addition to monitoring overall dental health, we can also apply or recommend additional fluoride products to help strengthen teeth or prescribe antibacterial rinses to reduce the mouth's bacterial level.
Keeping up a good daily hygiene regimen and regular checkups will ensure that the smile you gain from wearing braces is healthy as well as beautiful.
If you would like more information on oral hygiene while undergoing orthodontic treatment, please contact us or schedule an appointment for a consultation. You can also learn more about this topic by reading the Dear Doctor magazine article "Caring for Teeth During Orthodontic Treatment."
By Southshore Dental
October 19, 2012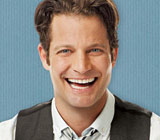 Perhaps you've seen Nate Berkus on The Oprah Winfrey Show or watched his television program, The Nate Berkus Show. You may even have read his best-selling book, Home Rules: Transform the Place You Live Into a Place You'll Love. Regardless of where or how you discovered Berkus, you will surely have noticed his dazzling smile.
Berkus recently opened up about the facts behind his trademark smile during an interview with Dear Doctor magazine. First off, his smile is totally natural, as he never wore braces or had any cosmetic work, including porcelain veneers. However, Berkus does give credit to his childhood dentist for the preventative healthcare he received as a young boy. "I'm grateful for having been given fluoride treatments and sealants as a child," he said. Nate also shared the important flossing advice he learned from his dentist that he still follows today: "Floss the ones you want to keep." Berkus went on to say that he feels, "healthy habits should start at a young age."
And we totally agree! For this reason we have put together the following list of facts and oral hygiene tips:
Over 50% of plaque accumulation occurs in the protected areas between teeth — a place that may be difficult or even impossible to reach with a toothbrush.
A thorough brushing may take up to two minutes at first, and it may feel awkward as you reach some places in your mouth.
Remember, more is NOT always better! Brushing or flossing too hard can be damaging to your teeth and gums. And never saw back and forth with your floss.
To learn more about oral hygiene, including brushing and flossing techniques, you can continue reading the Dear Doctor article "Oral Hygiene Behavior - Dental Health For Life." Or you can contact us today to schedule an appointment so that we can conduct a thorough examination, review your brushing and flossing techniques, and discuss any questions you have as well as treatment options. As needed, we will work with you to teach you the proper brushing and flossing techniques so that you feel confident before you leave our office. And to read the entire interview with Nate Berkus, please see the Dear Doctor article "Nate Berkus."