Posts for tag: clear aligners
By Southshore Dental
November 29, 2019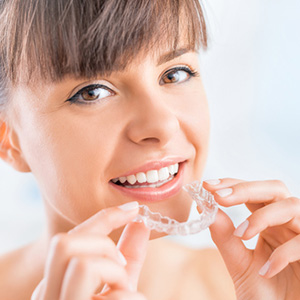 Your teen is about to embark on an orthodontic journey to a straighter, more attractive smile. But although you're excited about the outcome, you both may be steeling yourselves for a few years of "life with braces."
But maybe not—your teen may be able to take advantage of a different kind of corrective appliance: clear aligners. This 21st Century teeth movement method has a number of advantages over braces. For teens, though, there's one big one that could have a huge impact on their social life—clear aligners are nearly invisible to other people.
Clear aligners consist of a series of clear, removable, computer-generated trays based on photographs, models and x-rays of an individual patient's teeth and bite. Each of the trays is slightly different from the previous one in the series, and by wearing each one for about two weeks before moving on to the next, the aligners gradually move the teeth to the desired new positions.
Besides reducing embarrassment often associated with wearing metal braces, clear aligners have other benefits. Unlike braces, they can be removed for eating, easier oral hygiene or for rare special occasions (although for best effectiveness, they should be worn for 20 to 22 hours each day). Recent developments like added elements that help target certain teeth for movement or "power ridges" for more controlled and efficient force have increased the range of bite problems they can be used to correct.
While this means clear aligners can be used for many bite problems, in some severe cases braces and other orthodontic treatments might still be necessary. And because they're not fixed like braces (only the orthodontist can remove them) the patient must have the maturity and self-discipline to wear them consistently.
Your teen will need to undergo a thorough orthodontic examination to see if clear aligners are a viable option for them. If so, it could make the next few treatment years less stressful for both of you.
If you would like more information on clear aligners, please contact us or schedule an appointment for a consultation. You can also learn more about this topic by reading the Dear Doctor magazine article "Clear Aligners for Teens: User-Friendly Orthodontics."
By Southshore Dental
May 20, 2017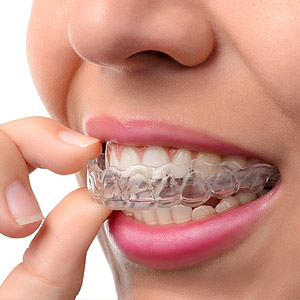 Your teenager is about to take a big step toward better health and a more attractive appearance — orthodontic treatment. You both know the benefits: better chewing function, lower risk of dental disease, and, of course, a straighter and more beautiful smile.
But your teen might also dread the next couple of years of wearing braces. And it's hard to blame them: although they're effective, wearing braces restricts eating certain snacks and foods, they require extra time and effort for brushing and flossing, and they're often uncomfortable to wear. And of high importance to a teenager, they may feel embarrassed to wear them.
But over the last couple of decades a braces alternative has emerged: clear aligners. This form of bite correction requires fewer food restrictions, allows greater ease in hygiene, and is considered more attractive than braces. In fact, most observers won't notice them when a wearer smiles.
Clear aligners are a series of clear plastic trays created by computer that are worn in a certain sequence. During wear each tray exerts pressure on the teeth to gradually move them in the desired direction. The patient wears a single tray for two weeks and then changes to the next tray in the sequence, which will be slightly different than the previous tray. At the end of the process, the teeth will have been moved to their new positions.
Clear aligners aren't appropriate for all bite problems. When they are, though, they offer a couple of advantages over braces. Unlike braces, a wearer can remove the aligner to brush and floss their teeth or for rare, special or important social occasions. And, of course, their appearance makes them less likely to cause embarrassment while wearing them.
In recent years, design improvements have increased the kinds of bites aligners can be used to correct. For example, they now often include "power ridges," tiny features that precisely control the amount and direction of pressure applied to the teeth. They've also become thinner and more comfortable to wear.
If you're interested in clear aligners as a treatment option, talk with your orthodontist about whether your teen is a good candidate. If so, they could make orthodontic treatment for achieving a more attractive and healthy smile less of an ordeal.
If you would like more information on clear aligners as an orthodontic option, please contact us or schedule an appointment for a consultation. You can also learn more about this topic by reading the Dear Doctor magazine article "Clear Aligners for Teens."
By Southshore Dental
December 19, 2012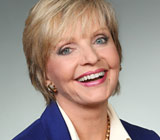 Florence Henderson has inspired generations of people through her portrayal of America's most beloved TV mother, Carol Brady, on one of the longest running situational comedies, The Brady Brunch. Today Florence is still a role model but for a much different audience: senior citizens.
Henderson created the FloH Club as an organization to assist senior citizens with understanding and embracing technology, as she described in an interview with Dear Doctor magazine. "I was inspired to create the FloH Club because of my own fear of technology and because I didn't want to keep asking my children for help," she said.
And while Henderson was blessed with naturally straight teeth and has had no cosmetic work done, she is not opposed to it. "I wouldn't care how old I was, if I had misaligned teeth or felt I needed cosmetic dentistry I would certainly do it!"
One teeth-straightening option many adults consider is clear orthodontic aligners. They are an excellent way for self-conscious adults to align their teeth without feeling that they will appear as an awkward "brace-faced" youth — a look that is commonplace for the teenage years.
But what are clear aligners? They are an alternative system to traditional braces that use a sequence of individual, custom-fitted trays that are clear and removable to gradually straighten teeth. They are usually recommended for correcting mild to moderate spacing problems or crowding of the teeth, and for cases in which there are no major issues with your bite (i.e., your back teeth fit together properly and biting forces are distributed evenly on all of your teeth).
To learn more about this method of aligning teeth, you can continue reading the Dear Doctor magazine article "Clear Orthodontic Aligners." Or you can contact us today to schedule an appointment so that we can conduct a thorough examination and discuss what treatment options will be best for you. And to read the entire interview with Florence Henderson, please see the Dear Doctor article "Florence Henderson."