Posts for tag: dental implants
By Southshore Dental
April 09, 2014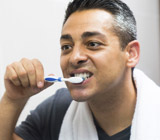 One of the great benefits that patients with implants enjoy is their imperviousness to decay: unlike a natural tooth, bacteria have no effect on the materials in an implant's construction. That doesn't mean, however, you can become lax in your hygiene habits — although the implants may not be susceptible to disease, the surrounding gum tissue and bone are. If those tissues become infected you could start to lose the implant attachment and, as it progresses, the implant itself.
In fact, the gum tissue that surrounds the implant may be more susceptible to infection than those around natural teeth. Teeth maintain a connection with the jawbone through the periodontal ligament. Besides securing the tooth, the gum tissue has fibrous attachments to the tooth to help the gum tissue endure a lot of wear and tear and resist the invasion of bacteria and food particles. Implants are anchored directly into the jawbone (where bone eventually grows and attaches to the titanium implant surface) and don't develop an attachment with the ligament. Implants, therefore, don't have the benefit of resistance to bacteria and food particles that natural teeth receive through these fibrous attachments.
As a result, patients with implants need to establish a conscientious habit of effective oral hygiene. Daily removal of bacterial plaque from teeth surfaces through brushing and flossing (and semi-annual office cleanings and checkups) greatly reduce the risk of infection and subsequent inflammation. It's also important to monitor the condition of your gums, especially around implants. If you begin to notice bleeding, red or swollen gums, or other signs of possible gum disease, you should contact us as soon as possible for an assessment.
Proper care for implants and their supporting tissues is just as necessary, and perhaps more so, than it is for natural teeth. By providing that care, you'll help ensure years of effective service from your implants.
If you would like more information on hygiene practices with implants, please contact us or schedule an appointment for a consultation. You can also learn more about this topic by reading the Dear Doctor magazine article "Infections Around Implants."
By Southshore Dental
July 19, 2013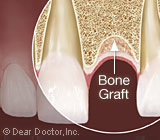 Dental implants are a great choice for many people who need to permanently replace a missing tooth. Reliable and long-lasting, they offer a highly successful outcome, and can even help reduce long-term bone loss and damage to adjacent teeth. One of the best features of implants is that the titanium metal of which they're made actually becomes fused with your natural, living bone tissue.
But sometimes, an examination may show that where you have missing teeth, you may not have enough bone remaining to properly place an implant. Does this mean you're out of luck? Not necessarily!
Employing the refined techniques of bone grafting, regenerating bone tissue has become a standard procedure in periodontal and oral surgery. In many cases, it's possible to build up just the right amount of bone using a variety of grafting materials, in combination with other special techniques. This can enable patients who wouldn't otherwise be good candidates to enjoy the benefits of dental implants.
How does it work? Basically, by helping your body repair itself.
You may already know that bone is a living tissue, which can respond to its environment positively (by growing) or negatively (by resorbing or shrinking). When you've lost bone tissue, the trick is to get your body to grow more exactly where you want it. Once we know where — and how much — replacement bone is needed, we can place the proper amount of bone grafting material in that location. Then, in most cases, the body will use that material as a scaffold to regenerate its own bone.
Bone grafting is often done at the time of tooth removal as a preventive procedure or prior to the placement of an implant, to give the body time to re-grow enough of its own tissue. The procedure is generally carried out under local anesthesia, or with the aid of conscious sedation. Sometimes, if there is enough natural bone to stabilize it, it's even possible to place an implant and perform a bone graft at the same time.
So if you're considering dental implants, let us advise you on what's best for your particular situation. We have the knowledge and experience to help you make the right choices, and achieve the most successful outcome.
If you would like more information about bone grafting, please contact us or schedule an appointment for a consultation. You can learn more in the Dear Doctor magazine article "Can Dentists Rebuild Bone?"