Posts for: July, 2014
By Southshore Dental
July 23, 2014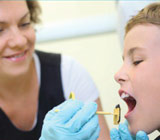 X-ray diagnostics have revolutionized our ability to detect early or hidden cavities, paving the way for better dental care. But x-ray exposure also increases health risks and requires careful usage, especially with children.
A form of invisible radiation, x-rays penetrate and pass through organic tissue at varying rates depending on the density of the tissue. Denser tissues such as teeth or bone allow less x-rays to pass through, resulting in a lighter image on exposed film; less dense tissues allow more, resulting in a darker image. This differentiation enables us to identify cavities between the teeth — which appear as dark areas on the lighter tooth image — more readily than sight observation or clinical examination at times.
But excessive exposure of living tissue to x-ray radiation can increase the risk of certain kinds of cancer. Children in particular are more sensitive than adults to radiation exposure because of their size and stage of development. Children also have more of their lifespan in which radiation exposure can manifest as cancer.
Because of these risks, we follow an operational principle known as ALARA, an acronym for "As Low As Reasonably Achievable." In other words, we limit both the amount and frequency of x-ray exposure to just what we need to obtain the information necessary for effective dental care. It's common, for example, for us to use bitewing radiographs, so named for the tab that attaches the exposable film to a stem the patient bites down on while being x-rayed. Because we only take between two and four per session, we greatly limit the patient's exposure to x-rays.
Recent advances in high-speed film and digital equipment have also significantly reduced x-ray exposure levels. The average child today is exposed to just 2-4 microsieverts during an x-ray session — much less than the 10 microsieverts of background radiation we all are exposed to in the natural environment every day.
Regardless of the relative safety of modern radiography, we do understand your concerns for your child's health. We're more than happy to discuss these risks and how they can be minimized while achieving maximum benefits for optimum dental health. Our aim is to provide your child with the highest care possible at the lowest risk to their health.
If you would like more information on the use of x-rays in dentistry, please contact us or schedule an appointment for a consultation. You can also learn more about this topic by reading the Dear Doctor magazine article "X-Ray Safety for Children."
By Southshore Dental
July 15, 2014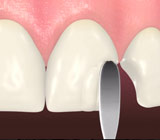 Q: What exactly is cosmetic tooth bonding?
A: Cosmetic bonding is a process in which your dentist uses specially formulated tooth-colored material to repair minor defects on the surface of your teeth. The bonding material itself is a type of composite resin — a tough, translucent mixture of plastic and glass components that mimics the pearly-white appearance of your teeth to a high degree. The material also bonds (links up) so well with the natural tooth structure that this relatively simple and inexpensive treatment can last for a number of years.
Q: What types of defects can tooth bonding repair?
A: Bonding can be used to remedy several different kinds of flaws in your smile. Small chips, cracks and areas of discoloration can be easily treated via cosmetic bonding. It can even be used to fix minor spacing irregularities. Best of all, because composite resin is available in various shades to match the natural color of your teeth, it's almost impossible to tell which tooth has been treated.
Q: What are the pluses and minuses of cosmetic bonding?
A: Bonding is a procedure that can be done right in the dental office, without involving a laboratory — that's why it is typically an easy, cost-effective treatment that can be accomplished in a single visit. It's a great solution for restoring minor flaws that don't extend very far into the tooth's structure. It's also ideal for teenagers, who may have to wait until they stop growing before getting a more permanent restoration. But bonding normally isn't as long-lasting as some other restoration techniques, such as veneers or crowns. However, with proper care, a bonded tooth can keep looking good for years.
Q: What is the bonding procedure like?
A: Bonding is a minimally invasive, reversible treatment that normally causes little or no discomfort. The tooth being treated is first thoroughly cleaned, and then "etched" with a gel that microscopically roughens its surface. Next, the gel is rinsed off, and liquid composite resin (in a shade chosen to match the tooth) is painted on with a brush. Then, the bonding material is cured (hardened) using a special light. After it has cured, another layer may be applied; this process can be repeated several times to build up a thicker coating. Finally, a dental instrument is used to shape the built-up material into its final, pleasing form.
Q: Do bonded teeth require special care?
A: Not really… but like all teeth, they should be brushed and flossed daily, and professionally cleaned at the dental office twice a year. Bonded teeth can also become stained from tobacco use, red wine and coffee — but unlike regular teeth, bonded teeth can't be lightened. So if you're considering tooth-whitening treatments, have them done before your teeth are bonded.
If you have questions about whether cosmetic bonding could help your smile look its best, please contact us or schedule an appointment for a consultation. You can learn more by reading the Dear Doctor magazine articles "Repairing Chipped Teeth" and "Artistic Repair Of Front Teeth With Composite Resin."