Posts for: June, 2013
By Southshore Dental
June 26, 2013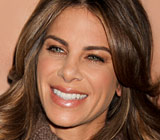 Jillian Michaels, personal trainer and star of television's The Biggest Loser isn't afraid of a tough situation — like a heart-pumping exercise routine that mixes kickboxing with a general cardio workout. But inside, she told an interviewer from Dear Doctor magazine, she's really a softie, with "a drive to be one of the good guys." In her hit TV shows, she tries to help overweight people get back to a healthy body mass. And in doing so, she comes face-to-face with the difficult issue of sleep apnea.
"When I encounter sleep apnea it is obviously weight related. It's incredibly common and affects millions of people," she says. Would it surprise you to know that it's a problem dentists encounter as well?
Sleep apnea is a type of sleep-related breathing disorder (SRBD) that's associated with being overweight, among other things. Chronic loud snoring is one symptom of this condition. A person with sleep apnea may wake 50 or more times per hour and have no memory of it. These awakenings last just long enough to allow an individual to breathe — but don't allow a deep and restful sleep. They may also lead to other serious problems, and even complications such as brain damage from lack of oxygen.
What's the dental connection? Sleep apnea can sometimes be effectively treated with an oral appliance that's available here at the dental office. The appliance, worn at night, repositions the jaw to reduce the possibility of the tongue obstructing the throat and closing the airway. If you are suffering from sleep apnea, an oral appliance may be recommended — it's a conservative treatment that's backed by substantial scientific evidence.
As Michaels says, "I tell people that [sleep apnea] is not a life sentence... It will get better with hard work and a clean diet." So listen to the trainer! If you would like more information about sleep-related breathing disorders, please contact us for a consultation. You can learn more in the Dear Doctor magazine article "Sleep Disorders and Dentistry."
By Southshore Dental
June 13, 2013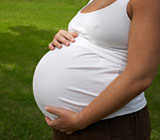 During pregnancy, a mother has many health concerns for both her baby and herself. Though it may not seem as important, dental health and development should be on that list of concerns, for both you and your baby. In fact, your baby's tooth development is already well underway just a few weeks after conception. Pregnancy can also present challenges to your own dental health that definitely deserves your attention and care.
Taking care of your own dietary needs and dental health is also the best thing you can do for your baby. The baby growing within you needs calcium, phosphorus, vitamins and other minerals for the healthy development of teeth and bones. That can only come from you eating a balanced diet rich in these nutrients.
During pregnancy, you are also more susceptible to gingivitis (inflammation of the gums) or other gum diseases because of the normal increase in the level of the hormone progesterone. In fact, some studies seem to indicate that severe gum disease might even raise the risk for premature birth and a low birth weight. It's important then to practice good dental hygiene during your pregnancy: brushing your teeth at least twice a day with an American Dental Association (ADA) approved fluoridated toothpaste, flossing and using an ADA approved mouth rinse that deters the buildup of plaque and the occurrence of gingivitis. Our office is also happy to provide you instruction on proper brushing and flossing technique to help you gain the most benefit from your daily hygiene.
By paying close attention to your own dental health and diet, you are actually doing the very best you can to provide your baby a solid foundation for a lifetime of good oral health.
If you would like more information on protecting your and your baby's oral health, please contact us or schedule an appointment for a consultation. You can also learn more about this topic by reading the Dear Doctor magazine article "Expectant Mothers: Dental facts you need to know."