Posts for: May, 2013
By Southshore Dental
May 30, 2013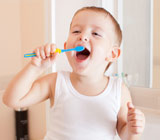 Caring for a young child can be overwhelming at times. Sometimes, it may feel like you can't read enough books to learn the correct way to do everything from potty training to feeding. It's also important to teach your child healthcare habits during these crucial years, so that they continue these habits for a lifetime!
Here are a few simple ways you can help your child to institute lifetime oral care habits.
DO: Encourage your Child to Brush Every Day with Fluoride Toothpaste. Fluoride will help make your child's teeth more resistant to tooth decay. You should use a thin smear of fluoride toothpaste for children under age two and a pea-sized amount for older children. At age two, you can also begin empowering your child to brush, but make sure that you supervise and finish the job. Your child will probably need your help until around the age of six.
DON'T: Share your Germs. Did you know that children are not born with the bacteria that cause tooth decay? In fact, the bacteria are transmitted to them from adults! You should never share a cup or spoon with your child. Also, next time you kiss your child, kiss him or her on the cheeks instead of the lips. Believe it or not, you can transmit harmful bacteria through this quick little kiss.
DO: Limit your Child's Sugar Intake. When your child consumes sugar, the bacteria use the sugar to produce acids that dissolve tooth enamel, eventually leading to tooth decay. Saliva can neutralize those acids, but it needs enough time, 30 to 60 minutes, to work its magic. That is why it is important to limit sugar intake between meals.
DON'T: Give Your Child a Bottle at Night. Juice, milk and even breast milk contain sugars that promote tooth decay, in particular during sleep, when less saliva is being produced. So, though it may be tempting, do not let your child go to bed with a bottle.
DO: Take your Child to the Dentist Early. The American Academy of Pediatric Dentistry recommends that all children have their first dental visit by the age of one. Your toddler will benefit from regular dental visits, because we will monitor tooth decay, correct brushing techniques and also, most importantly, ensure that he or she is comfortable in the dental chair.
DON'T: Allow your Child to Suck His or Her Thumb Past Age Three. Thumb sucking for comfort is a very normal behavior for babies and toddlers. However, if your child constantly sucks his or her thumb past the age of three, it can affect teeth alignment and jaw development.
If you would like more information about oral care for your child, please contact us or schedule an appointment for a consultation. You can also learn more by reading the Dear Doctor magazine article "Dentistry and Oral Health for Children."
By Southshore Dental
May 15, 2013
A crown is a common type of dental restoration that has been available, in different forms, for a long while. When properly done, it may last for decades — and if desired, it can be made to match the shade of the natural teeth so well that it's nearly impossible to tell them apart. Some recent technological innovations may offer patients who need this treatment even more choices. To begin learning about dental crowns, let's start with five facts everyone should know.
Crowns are a type of restoration that can solve many dental problems.
There are many factors that may cause the structure of a tooth to become compromised. It can be weakened by grinding or chipping, gradually removed by repeated dental fillings, or suddenly broken by trauma. Sometimes, a more conservative treatment (like inlays or veneers) may be enough to take care of the problem. When it isn't, the missing tooth structure can be replaced by a crown.
Crowns replicate the form and function of natural teeth.
Because they must fit into your mouth perfectly and match your bite exactly, each crown is an individually-crafted item, made just for you. That means the form of a crown must look just like the tooth it replaces — before it was damaged. And, especially if it's for a front tooth, a crown is often carefully designed to match the particular shade of your teeth. If you are unhappy about the color of your other front teeth, tooth whitening should be done first before your new crown is created to get the best results possible.
Crowns can be made of different materials.
For over a hundred years, crowns have been made of gold. While this extremely long-lasting material remains popular, its use has been declining recently due to aesthetic factors. Two tooth-colored alternatives are all-porcelain and porcelain-fused-to-metal crowns. The exact shade and luster of these substances can be made to closely simulate the natural teeth. Each has advantages and disadvantages in particular situations but we will be happy to make recommendations as to what is in your best interests.
New technologies are changing the way crowns are prepared.
Advances in the field of materials science have led to crowns being fabricated from more durable high-tech substances, like ceramics made of zirconium dioxide. And the availability of small-scale computer-aided design and manufacturing technologies means that in some situations, it's possible for a crown to be fabricated right in the dental office, in minutes. Undoubtedly, these technologies will continue to improve in the future.
Delivering a quality crown is a blend of science and art.
No matter how high-tech the process becomes, producing a fully functional, long lasting and natural-looking crown remains a blend of aesthetics and science, seasoned with a healthy dose of clinical experience. It's also a team effort involving a skillful dentist, a talented dental laboratory technician and a knowledgeable patient — you.
If you would like more information about crowns, please contact us or schedule an appointment for a consultation. You can also learn more about this topic by reading the Dear Doctor magazine articles "Porcelain Crowns & Veneers," "Gold or Porcelain Crowns," and "Creating In-Office Dental Restorations With Computers."