Posts for tag: wisdom teeth
By Southshore Dental
May 12, 2017
A few days before the Oscars, Vanity Fair magazine asked Academy Awards host Neil Patrick Harris to name his most treasured possession. Was it his Tony award statuette for best leading actor in a musical? His star on the Hollywood Walk of Fame? The stethoscope he wore while playing teenaged doctor Doogie Howser on TV? No, as it turns out, the 41-year-old actor's most treasured possession is… his wisdom teeth. Yes, you read that correctly. "Oddly, I still have my four wisdom teeth," Harris said. "I refuse to let them go or I'll lose my wise parts."
How odd is it for a 41-year-old to have wisdom teeth? Actually, not that odd at all. While it is true that wisdom teeth are often removed, there's no one-size-fits-all approach to this. It all depends on whether they are causing problems now, or are likely to cause problems in the future.
The trouble wisdom teeth cause is related to the fact that they are the last molars to come in, and that molars are large in size. By the time wisdom teeth appear between the ages of 17 and 21, there often is not enough room for them in the jaw. Sometimes it's because you may have inherited a jaw size that's too small for your tooth size; and generally speaking, the size of the human jaw has evolved to become smaller over time.
If room is lacking, the adjacent molar (that came in earlier) can interfere with the path of eruption — causing the wisdom tooth to come in at an odd angle. The wisdom tooth can hit up against that other tooth, possibly causing pain or damaging the adjacent tooth. This is known as "impaction." Sometimes the wisdom tooth breaks only partway through the gum tissue, leaving a space beneath the gum line that's almost impossible to clean, causing infection. A serious oral infection can jeopardize the survival of teeth, and even spread to other parts of the body.
If a wisdom tooth is impacted, will you know it? Not necessarily. A tooth can be impacted without causing pain. But we can see the position of your wisdom teeth on a dental x-ray and help you make an informed decision as to whether they should stay or go. If removal is the best course of action, rest assured that this procedure is completely routine and that your comfort and safety is our highest priority. If there is no great risk to keeping them, as Neil Patrick Harris has done, we can simply continue to monitor their condition at your regular dental checkups. It will be particularly important to make sure you are reaching those teeth with your brush and floss, and that you keep to your schedule of regular professional cleanings at the dental office. All healthy teeth are indeed worth treasuring.
If you would like more information about wisdom teeth, please contact us or schedule an appointment for a consultation. You can learn more by reading the Dear Doctor magazine articles "Wisdom Teeth" and "Removing Wisdom Teeth."
By Southshore Dental
February 10, 2013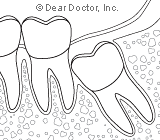 Of all the teeth in the mouth, the ones receiving the most discussion and controversy would have to be the wisdom teeth or third molars. And this is not just a recent phenomenon, as people have been discussing them for centuries! See how much you really know about wisdom teeth by taking our quick and easy true/false self test.
Third molars received their name, "wisdom teeth," because a moderate amount of wisdom is supposedly achieved in life about the time they appear.
True or False
Wisdom teeth and all of their associated problems are commonplace in the practice of dentistry.
True or False
Because wisdom teeth are so unpredictable, they typically make their appearance between the ages of 17 and 25.
True or False
The most common consequence of impacted wisdom teeth is gum (periodontal) disease.
True or False
If wisdom teeth are not removed, they will become impacted or cause crowding. This is why so many people require orthodontic treatment (braces).
True or False
While most people have four wisdom teeth, having more (supernumerary teeth) or less (hypodontia) is possible.
True or False
Through dental x-rays and routine check-ups, we can predict the timing and way in which wisdom teeth become visible (erupt).
True or False
An impacted wisdom tooth, by definition, is a third molar that is colliding with or jammed against another important structure, such as an adjacent tooth, the gums or other important soft tissues in the mouth, or nerves and blood vessels.
True or False
The primary symptom for indicating you have an impacted wisdom tooth is pain.
True or False
If wisdom teeth need to be removed, it is best to remove them at a younger age rather than waiting until periodontal disease has started.
True or False
Answers: 1) True. 2) True. 3) True. 4) True. 5) False. While wisdom teeth can be a factor in crowding, some people have no issues with these teeth. For them, they grow into proper position and are healthy teeth. 6) True. 7) False. Unfortunately, it is not possible to predict the way wisdom teeth will erupt. 8) True. 9) False. In some scenarios, impacted wisdom may cause no pain. 10) True.
To learn more about wisdom teeth and in particular, impacted wisdom teeth, continue reading the Dear Doctor magazine article "Wisdom Teeth." Or you can contact us today to schedule an appointment to discuss your questions.
By Southshore Dental
July 20, 2012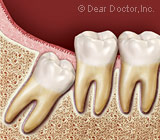 The third molars, called "wisdom teeth" because they usually become visible when a person is 17 to 25 — supposedly the time we achieve wisdom, may have adverse effects on adjacent teeth. Most adults have four wisdom teeth, although some people have more; and some, none at all. The wisest thing to do about wisdom teeth may be to have them removed if they are poorly positioned.
What is an impacted wisdom tooth?
If a wisdom tooth is pushing against gums, other soft tissues, or adjacent teeth at an awkward angle, it is referred to as "impacted." Usually this occurs when there is not have enough room in the jaws for these last molars to fit next to their adjacent teeth. They can disrupt the gum tissue attachment of their neighboring teeth and the surrounding bone leading to periodontal disease and, ultimately, their loss.
In many cases, impacted teeth are painless, and those who have them have no warning of the problem. Thus it is important to have routine dental exams during the time when the third molars are coming in.
When should wisdom teeth be removed?
It is better to remove wisdom teeth early rather than waiting until periodontal (gum) disease has set in. As individuals age, keeping their wisdom teeth may lead to more serious problems. Periodontal defects tend to get worse in the presence of retained third molars. Furthermore, there is a higher incidence of postoperative symptoms in people over 25.
What are the pros and cons?
Removing impacted third molars can have a negative influence on the periodontal tissues of adjacent second molars. A number of techniques, such as scaling, root planing, and bacterial plaque control, can be used to minimize periodontal problems and promote healthy healing.
Surgical removal of wisdom teeth will involve some mild to moderate post-operative discomfort. Use of aspirin or ibuprofen for a few days after surgery will provide pain relief and control most swelling and symptoms. Antibiotics may be prescribed to ensure infection-free healing. It is important to keep the socket area clean by washing and rinsing with saline or antibacterial rinses. Careful surgery will promote good healing with minimal periodontal consequences to adjacent second molar teeth.
To decide whether your wisdom teeth should be removed, you will need an evaluation to assess the clinical health of the wisdom teeth, the neighboring teeth, and other vital structures. X-ray and digital imaging techniques play an important role in determining the exact position of the wisdom teeth in the jaw. A full assessment and consultation will include all the risks, benefits, likely consequences, and alternative treatment options. This will provide you with the wisdom you need to determine what is best for your wisdom teeth.
To learn more about wisdom teeth, read "To Be or Not to Be: What are the consequences of an impacted wisdom tooth?" Or contact us today to discuss your questions or to schedule an appointment.