Posts for tag: veneers
By Southshore Dental
January 25, 2013
If you have a tooth that just doesn't look good because of decay or injury, a porcelain laminate veneer is probably a good way to make it look as good as it ever did — and maybe even better! Dental veneers are composed of thin layers of dental ceramic material. They essentially replace the original tooth enamel and require preparation of the tooth by removing a small amount of enamel to allow room for the placement of the veneer.
Recently, more and more dentists have been using minimal prep or prepless techniques that do not require this preparation. In such cases, the porcelain is bonded directly to the outer layer of the tooth's enamel. Highly skilled dental technicians can design a custom-fit veneer that feathers into the tooth just short of the gum line.
Prepless techniques cannot be used in all situations, but when they are used appropriately the results are beautiful and very stable. Should you get prepless veneers? The following is a list of advantages and disadvantages of prepless veneers.
Advantages of prepless veneers include:

Tooth preparation or reduction is not needed, leaving the original tooth whole.
They are not placed under the gum tissue, eliminating the possibility that the restorations negatively impact the gum tissue.
They can be used to change the appearance of teeth that are too small or misshapen making the teeth look larger and eliminate unwanted spacing.
They can be used to "lengthen" teeth that have been worn down by grinding.
Since the underlying tooth has not been reduced, prepless veneers are reversible and practically risk-free.
Disadvantages include:

There are many cosmetic situations in which they cannot be used, and traditional veneers (requiring preparation) must be used instead.
Prepless veneers cannot be used in cases in which orthodontic treatment is recommended to move the teeth, such as improper tooth position, poor bite, or a poor facial profile.
Since they are added on to existing tooth structure, they do not work for teeth that are relatively large or in a forward position in a smile.
They do not usually work for lower teeth because of space restrictions.
They cannot replace lost or damaged enamel.
Working with prepless veneers requires special skills and training. Please discuss our credentials and experience with us when you inquire about this technique. We can assess your specific situation and let you know whether restoration without the drill is appropriate for you.
Contact us today to schedule an appointment to discuss your questions about prepless veneers. You can also learn more by reading the Dear Doctor magazine article "Porcelain Veneers Without the Drill."
By Southshore Dental
January 07, 2013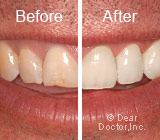 If you are unhappy with the appearance of your smile and would like to change it, we can help you determine what will work best, from a simple whitening to brighten your smile to a complete smile makeover — the possibilities are almost limitless! Consider a "Smile Design" customized just for you. One method of improving your smile is with porcelain veneers. Porcelain laminate veneer tooth restorations are thin layers of dental ceramic — a glass-like material created by dental laboratory technicians, the "artists" who exactly mimic natural teeth making them straighter, whiter, and brighter. They are used to replace worn, dull-looking stained enamel. In addition to making your teeth and smile whiter and brighter, veneers can even be used to change tooth shape and color, close small spaces, and reshape slightly crooked or mis-shapen teeth.
In order to determine if porcelain veneers are a viable solution to help you achieve the smile you have always longed for, consider the following questions:
Do you want to permanently alter the appearance of your smile?
Are you hoping to make improvements to your smile that don't take a very long time to complete?
Are you looking for a way to improve your smile with minimal or even no removal of your natural tooth material?
Would you like to have more evenly aligned teeth?
Do you want to change the color of your teeth?
Do you want whiter teeth and a brighter smile?
If the answer to one or more of these questions is yes and whitening or other treatments have not given you the smile you want, we can help you assess the feasibility of porcelain veneers as one of the many options to enhance and improve your smile. We can fully discuss all the benefits, risks, alternatives, and costs associated with improving your smile.
Call us to make an appointment for a Smile Design consultation and we can get started. If you would like to read more information about porcelain veneers, as well as see a few before and after photos, read the Dear Doctor magazine article "Smile Design Enhanced With Porcelain Veneers."